An Ohio Company and Schmale's X2000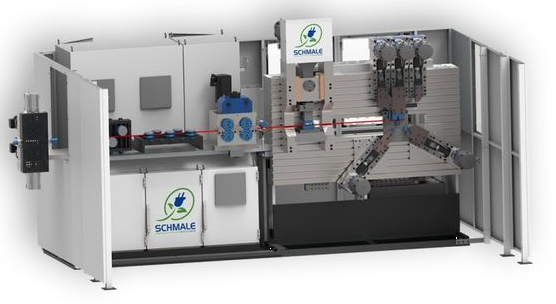 An Ohio based company faced a severe problem with their production. It was complex with multiple machines, multiple steps, and lots of manpower needed. The production process was loud, messy, and inefficient. The company faced a decision: to continue their current production style or revolutionize and upgrade?
They contacted Daniel Schmale in 2017 to see what Schmale Machinery could do for them. Daniel flew out from Atlanta, GA to their location in Ohio. There, he met with the team responsible for the production. He brought with him examples of parts that the X2000 series can produce. The team excitedly listened to what Daniel showed and told them. Of course, the experienced technicians knew their own process well. They knew what to look for. Most stunning to them were the speed and versatility of the Schmale machines. "That's slick!" was one exclamation from a technician. The finance department and CEO saw a fast machine, almost no operators and clean production. The CEO looked over to his technicians and said "That's engineer porn!" The CFO asked how much less the worker's comp would be since the safety measures are far ahead of the ones in place.

The technologies the X2000 can produce are almost endless. The machine can be used to have a very efficient mass production of complex parts. What does that mean? Many different materials can be used such as metal wire, strip metal (sheet metal), metal tube, plastic, and magazine different materials. One can use a broad spectrum of these materials from 1/16th to 1-inch wire. From these materials, there is a range of what one can use. A small X2000 with a short six-foot wall with some slides that can just bend wire is a simple thing. But add onto it to with additional walls, slides and presses to flatten, press, bend, punch and more. The utilization of the machine is very broad and you open the same machine up to a whole new spectrum of parts.
Each station is mobile within the X2000. A station contains a press or slide that bend, flatten, or weld the parts. Presses and slides within the unit can be moved to produce an endless stream of different parts. The X2000 can handle up to fifteen different stations to create the most intricate parts.
With Schmale machines, an additional part can be produced on the same machine. The slides and presses can be rearranged to make all kinds of parts. There is literally no end in sight. For example, a wire part and a strip metal part can be produced on either end and meet in the middle to be welded together.
The X2000 is compatible with a wide range of items. It can be compatible with a company's own tools. If a customer wants to use his tool set, then Schmale will make it happen. With some companies, they do not want to show their tool sets to anyone and they don't have to. Schmale will make it compatible without seeing the tool sets, so the company does not need to share their proprietary information. Also, there are many third-party items that the customer may have. A decoiler, for example, can be kept by the customer and integrated into the X2000. The same is true with welding units and other units that can be integrated. It goes so far as Schmale does not buy the unit, the customer does and then the unit is integrated into the machine. Schmale machines are also compatible with Bihler machines, a German company that produces smaller wire bending machines.
The company was astonished at all the X2000 could do and what it could offer. They thought it over and considered what needed to change within their company before they could agree. Daniel was there to answer all of their questions and concerns. The sale wasn't made that day, but Daniel would be back again a few months later.
The company had a long talk within their team about what to do. Their production was average and they needed a way to increase it. Schmale Machinery offered what they needed, and more, in a revolutionary way. They could downsize their machines to an all-in-one option. The production would be more efficient, they would have increased output, a higher quality product, increased versatility with the X2000 if they wanted to change parts produced, and the possibility of decreased cost per piece produced.
In time, the Ohio company chose Schmale and invested in their own X2000 series machine. They avoided costly second production, time consuming production with multiple machines, and inefficient production. Schmale's excellent customer service sent out a technician to assist the company with their production and training. The operation was simpler than they thought since the X2000 runs similar to a traditional mechanic machine, except with servo-electric drives. The training lasted one week and customer service was always on stand-by to assist, if needed.
After a couple of months, the customer began work on his own tool sets for the Schmale machine. Before long, the technicians had a dozen tool sets migrated. A road building section was that Schmale provides 3D-data of their machines, so customers can start from there.