X2000NC

The world's most versatile wire bending machine: X2000NC
X2000NC can be expanded or scaled down depending on the modular components needed for production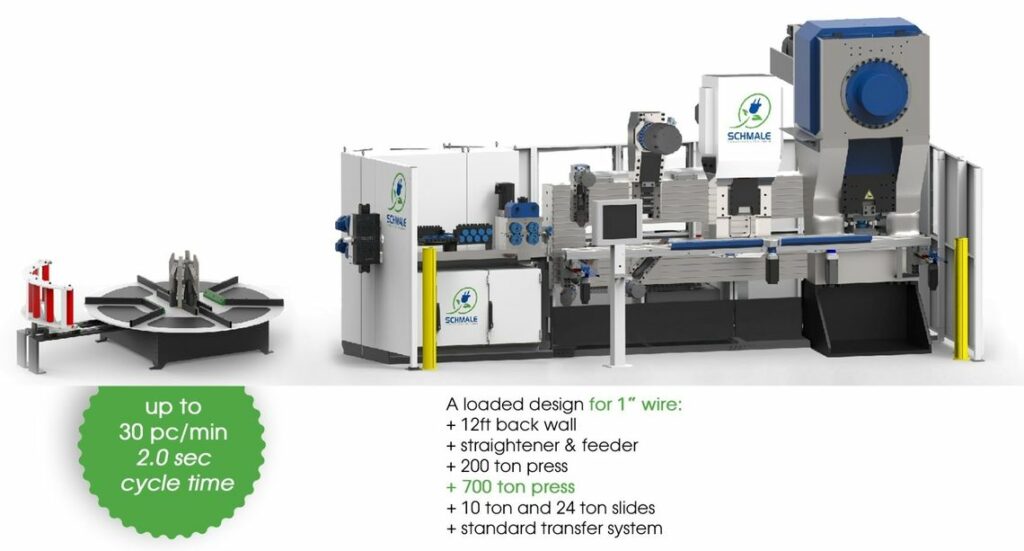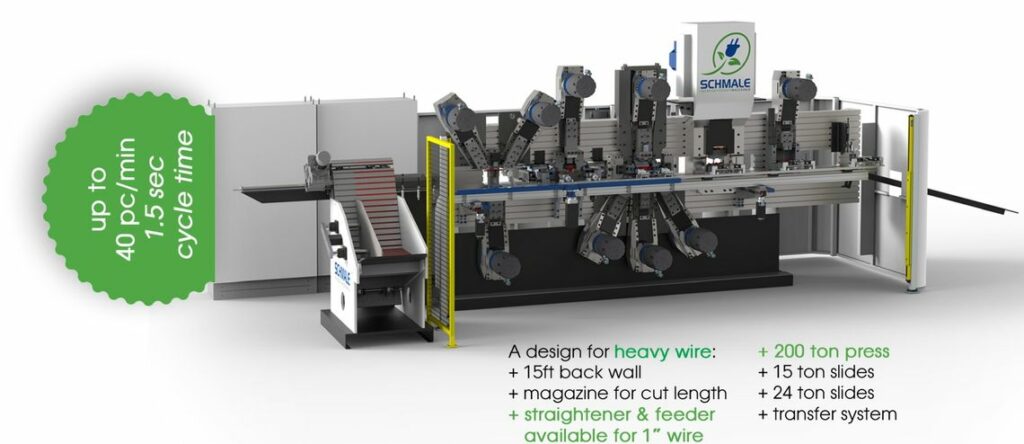 The Schmale X2000 Series
Metal parts manufacturing usually involves a series of processes to size, shape and build the desired final product. For example, a simple piece metal wire taken from the metal wire coil can be transformed into a seat headrest frame by means of different processes such as bending, notching, broaching, stamping and chamfering. Depending on the manufacturer requirements, the fabrication cycle may have more or less processes.
Traditionally, in any metal part fabrication cycle, each process is performed independently requiring specific tooling (such as presses and slides) and operators for each of them. Of course, these requirements result in higher costs and reduced efficiency, which in turn means less productivity, a longer time to market and lower profitability.
To avoid negative aspects from traditional metal parts manufacturing, Schmale Machinery provides fully automated solutions, the Schmale X2000 Series, with the X2000 NC presented as the first completely servo-electrically driven production system, thus being the first machine of its type to handle the drive axle segment without oil or hoses. These solutions are can integrate different processes such as bending, embossing, notching, flattening, joining, punching, swaging of tubes and wire in a complex fabrication cycle according to the production requirements.
You can watch one of our X2000NC machines in action on our Youtube channel.
Schmale X2000 Series Specs
Please refer to the table for further details.
X2000NC The Sprinter
| | |
| --- | --- |
| Drive | Servoelectric |
| | |
| Wire | |
| Strip | |
| Pipe | |
| | |
| Servo electric feeder | |
| Servo-hydr. feed-in | optional |
| Buffer magazine | |
| | |
| Production speed | 0 to 200 pcs./min. |
| Typ. wire diameter | 1/16″ to 1″ |
| | |
| --- | --- |
| Typ. strip dimensions | to 3″ x 1/4″ |
| Free work surface | 78″ to 275″ wide |
| Transfer system | |
| Stations | up to 15 |
| | |
| Force functions | up to 100 |
| Typical forces | 7,000 to 1,500,000 pound |
| Servo axes | up to 100 |
| Hydraulic functions | optional |
| | |
| Remote service | |
| Weight approx. | from 20,000 lbs |
The use of servo-electrical X2000 models saves considerable time for setup work since mechanical cam discs are no longer necessary. Maintenance work such as filling and bleeding of the hydraulic hoses can also be dispensed with.
The electronic control system can also be easily operated by touchscreen without long training periods. A major step was taken in the area of energy savings. The power consumption is thus 70% below that of a servo-hydraulic system.
Why Schmale Machinery
As it is the case with all other production technologies, Schmale places the highest standards on the productivity and future viability of the machines created. The majority of the pneumatic components used in our machines come from our partner Festo, while many electric components and automation, are provided by our partner Siemens. The great relationship with these outstanding partners allows us to also offer original spare parts even at short notice with a stock of more than 1 Million USD around the world. Schmale Machinery has delivered hundreds of integrated and automated machines to serve a wide range of industries including the automotive industry, the household industry, the building industry, the public transportation industry and others, resulting in a large list of happy customers. Our customers can rely on a dedicated customer service department with remote service and on-site service, mostly provided within 24 hours. To have a better view of the machine in operation please refer to the pictures and videos. If you have any further questions, please do not hesitate to contact us and we will gladly help you.