Operation
In order to achieve the proper automation and integration of the processes required by the fabrication cycle, a series of control systems must be used.

Interfaces, controls and operating concepts are the same for all SCHMALE machines. This means less time is needed for familiarization.
The seamless integration of additional functions is possible. Emphasis is placed on extensibility and simplicity.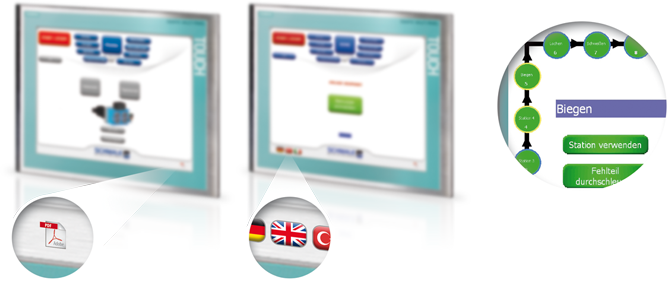 Operation of Schmale Control Systems
To ensure the correct operation of our integrated and automated machines, we rely only on top-notch suppliers, such as Siemens, to get the best and most reliable drives, PLC systems and frequency units, for example.
Moreover, we ensure the correct operation of our control systems by developing software in-house, including the programming for certain tools, slides, presses and more. This eliminates the need of a third party which may not know the customer targets and the design of the machines as well as we do.
Interfaces, controls and operating concepts are the same for almost all Schmale machines. In addition, control operations are very intuitive and user friendly, which means less time is needed for familiarization. We use graphic content were possible and visualize with colors, drawings and pictures.
All our machines are provided with standard control systems and software. However, the seamless integration of additional functions is possible if required by the customer, since we always place emphasis on simplicity and extendibility. This includes the integration of customer units such as decoilers or bowl feeders as well as interfaces to surrounding machines, like heat treatments, ovens, conveyors and others.
Another relevant feature of our control systems is the possibility to have different languages for the interfaces, making our machines the best integral solution for metal parts manufacturers around the world.
Why Schmale Machinery
As it is the case with all other production technologies, Schmale places the highest standards on the productivity and future viability of the machines created. The customer receives a modern, future-oriented and energy-efficient machine that has been precisely tailored to his requirements to produce complex components in an economical and flexible manner.
The majority of the pneumatic components used in our machines come from our partner Festo, while many electric components and automation, are provided by our partner Siemens. The great relationship with these outstanding partners allows us to also offer original spare parts even at short notice with a stock of more than 1 Million USD around the world.
Schmale Machinery has delivered hundreds of integrated and automated machines to serve a wide range of industries including the automotive industry, the household industry, the building industry, the public transportation industry and others, resulting in a large list of happy customers.
Our customers can rely on a dedicated customer service department with remote service and on-site service, mostly provided within 24 hours.
Panel Operation