Technical customer service
The majority of the pneumatic components used in our machines come from our partner Festo, while many electric components and automation, are provided by our partner Siemens. The great relationship with these outstanding partners allows us to offer original spare parts even at short notice with a stock of more than 1 Million USD around the world.
Our technical service often completes orders within 24 hours, including shipping spare parts and sending service personnel across continents (from Europe to the US). Although we cannot guarantee this, we aim to have spare parts and service personnel available same day or next morning in most of the cases.
Competent service usually within 24 hours
Original spare parts
Spare parts available upon short notice

Teleservice
Online fault messages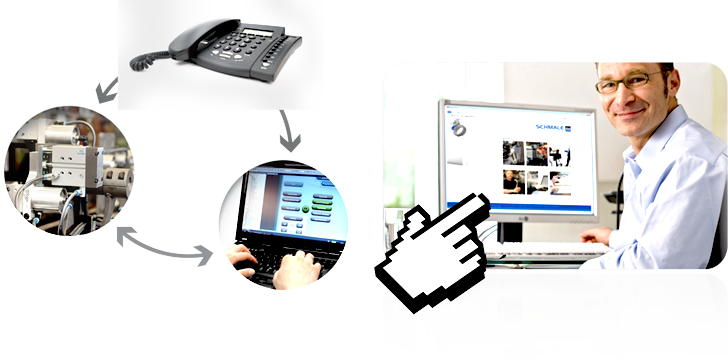 Other services we offer include:
Remote diagnostics. We can dial-in to our machines remotely to verify any faults reported by our customers. Also, we offer advice on any aspect that we find wrong during the diagnostic of the fault that has been reported. All consultation can be done remotely by using remote service.
Online fault report. By following the link to online fault report, our customers can fill in a form to report any fault found on our machine. This is especially useful when the fault appears out of our working hours, as the specific fault message indicated in the machine can be shared directly with the technical service personnel for the problem to be addressed promptly next morning.
Why Schmale Machinery
As it is the case with all the production technologies offered, Schmale places the highest standards on the technical customer service provided. The customer receives a modern, future-oriented and energy-efficient machine that has been precisely tailored to his requirements to produce complex components in an economical and flexible manner and can also rely on a dedicated customer service department with remote service and on-site service, mostly provided within 24 hours.
Schmale Machinery has delivered hundreds of integrated and automated machines together with specialized and customized technical service to a wide range of industries including the automotive industry, the household industry, the building industry, the public transportation industry and others, resulting in a large list of happy customers.
To have a better view of the capabilities we offer, you can check our signature machines. Both the newly developed SPEEDMAX from Schmale and also the machines in the X2000 series can integrate the processes required into a complex production process to produce the desired metal parts from the materials described before. You can also see the pictures and the videos to see them in operation.
If you have any further questions, please do not hesitate to contact us and we will gladly help you.