Swaging of solid material 1/2″
| | | |
| --- | --- | --- |
| Stage I | Stage II | Stage III |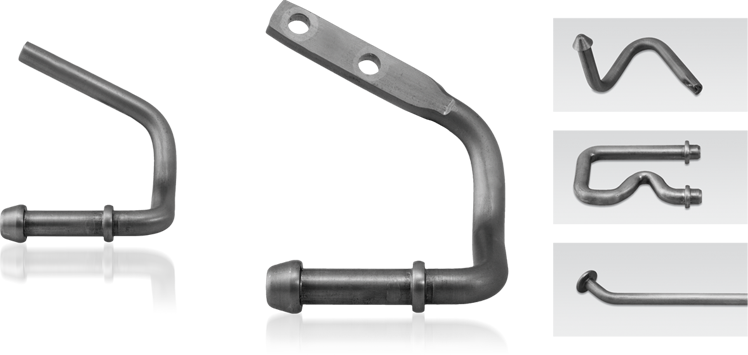 Stage IV | End stage
Diameter 1/2", 2 sec. cycle time, series runs from 20,000 parts, finished part falling out, power requirement approx. 30 kW
Swaging of solid material 3/4″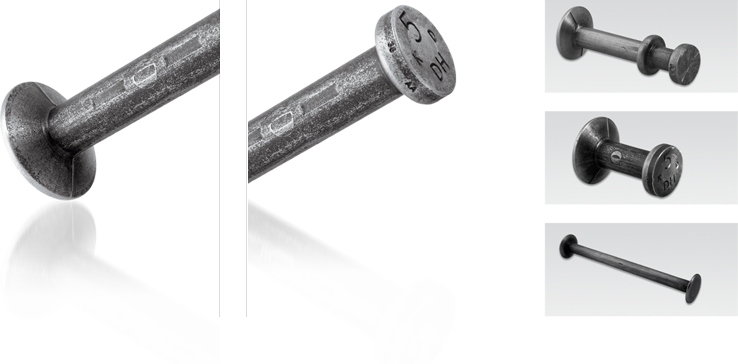 Stage III a | Stage III b
Diameter 3/4", 2,4 sec. cycle time, approx. 100 varieties in length in diameter with a changeover time of approx. 1 h, series runs from 20,000 parts, finished parts falling out, power requirement approx. 100 kW
Swaging of Solid Material
In general terms, swaging of solid material is a forming process applied to change the dimensions of the profile of the material by forcing it into dies as a cold or hot working process. To achieve it, different methods are used, including extrusion through a die and the use of two or more rotary dies from the outside, both to reduce the diameter of a section or the entire part. As a result, new workpieces are formed with the characteristics required by design.
An important feature of this process is that, although there is an alteration in the diameter, no material is lost as it happens with other manufacturing processes such as machining.
This process is mainly applied on solid material such as wires and bars to create collars and other shapes as part of a very complex fabrication cycle where components such as axles, drive shafts, transmission shafts, steering rods, among others are produced.
Swaging of Solid Material with Schmale Machinery
As it was said before, swaging is usually only a part of a complex fabrication cycle that may require other processes to create part features like bends, threaded sections, flat sections with holes for fasteners, and others.
These other processes such as bending, threading and flattening traditionally require specific machinery and operators to carry them out properly, meaning higher production costs and longer times to market, thus resulting in reduced profitability and competitiveness.
To avoid all those negative aspects and improve the efficiency of the fabrication cycle, Schmale Machinery offers fully automated solutions which are extremely energy efficient, capable of integrating swaging of solid material with the rest of the processes required.
These solutions include swage presses that can work in the pressure range from 24 tons to 300 tons, and all units can be modified to custom specifications, including higher forces and customized dies. The majority of the pneumatic components used in our machines come from our partner Festo, while many electric components and automation, are provided by our partner Siemens. The great relationship with these outstanding partners allows us to also offer original spare parts even at short notice with a stock of more than 1 Million USD around the world.
Both the newly developed SPEEDMAX from Schmale and also the machines in the X2000 series can integrate the swaging of solid material into a complex production process. Special machines that are custom designed for a specific production situation can also be suitable for the swaging of solid material as part of a tailored production process. If the swaging of solid material is desired by a customer, Schmale firstly analyses the specific production situation and then develops the optimal production machine. Great importance is placed on the upgradeability and energy efficiency of the machines during the design process. This enables the swaging of solid material to be integrated into the intelligent automation of various technologies. The customer receives a modern, future-oriented and energy-efficient machine that has been precisely tailored to his requirements.
The fabrication cycles obtained with Schmale integrated solutions only take a few seconds along the different stages to obtain the part ready for market, which clearly represents an enormous increase in efficiency and productivity and a significant reduction in the time to market, meaning that the profitability of your business will be higher. Moreover, series can run 20,000 parts or more depending on the specific part being produced.
Schmale Machinery has delivered hundreds of integrated and automated machines to serve a wide range of industries including the automotive industry, the household industry, the building industry, the public transportation industry and others, resulting in a large list of happy customers.
To have a better view of the process please refer to the pictures and videos.
If you are looking for an automated solution for swaging of solid materials, integrated with other processes required in your production cycle, or you have any further questions, please do not hesitate to contact us and we will gladly help you.