| | | |
| --- | --- | --- |
| Stage I | Stage II | Stage III |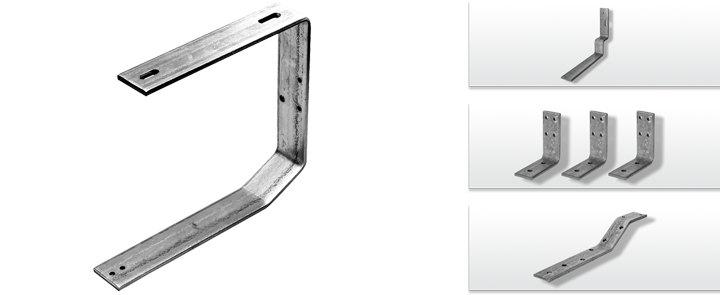 Stage IV
Strip metal 1 3/4" x 1/4", 12 sec cycle time, finished part falling out with punched holes and long holes, threads, bends and cuts, free configuration of position of holes etc., power requirement approx. 30 kW
Strip Processing
Metal strips are frequently used in structural applications to join metal sheets where welding is not the best solution or the angle between the sheets does not allow it. Strips can also be used to manufacture products for other applications such as striker plates for the doors.
What processes are required in strip processing?
Depending on the application, there can be different processes needed for a metal strip product. However, the most common one is cold bending. Other processes commonly used on metal strip involve punching, pressing and machining.
Cold bending is a forming process where a metal strip or sheet is bent to the required angle without the need of heat, so it is performed at room temperature. It is usually done with a press or a slide, where the tool presses the metal against a die with the desired angle. Another common method uses roller to press the metal against the die, and it is known as cold rolling.
With the cold bending process, the metal strip can take different shapes, including large diameter curves and a varied group of angles according to specifications.
Traditionally, the whole bending process will require one step for each angle required. Moreover, if more processes are used on the same metal strip that is being processed, it will require other steps and other machines to achieve the needed features, such as punched holes. Of course, this will result in an increase of the costs of production and the time to market, which in turn means a limited productivity and reduced profit.
Strip processing with Schmale machines
Striving for higher manufacturing efficiency and productivity to meet the demands of a very competitive market, Schmale machines provide fully automated solutions that integrate different processes into one single cycle to optimize the results.
Metal strip usually comes in the form of coils, so an automated uncoiler and a servo-electric feeder are used to take the metal strip into the processing cycle. Then, a group of sliding benders is arranged so that the final shape is achieved in one single step. Then the strip is cut to get the part ready.
As it was described before, more processes can be integrated according to your specific requirements. At the end, Schmale Machinery will provide you with one single automated solution from start to end, so you can have the most efficient metal strip process to maximize your business.
Please refer to the pictures and the videos to get a better view of the capabilities you can obtain from using Schmale Machinery technologies for metal strip processing.
If you are looking for a metal strip processing solution, or you have any further questions, please do not hesitate to contact us and we will gladly help you.