History of the X2000 – Revolutionizing Production
Schmale History
Albrecht Schmale started as a simple mechanic and was tasked with repairing machines for a company in his village in Germany. He knew the machines could be improved, but his company refused. However, companies in surrounding villages heard of his ideas and asked Albrecht to improve their machines. He continued improving the machines for cash payments in his basement until one company demanded an invoice.
In December 1965, he established the machine building company. In time, Albrecht had to make a decision to either stay with his career as a mechanic or work full-time improving and making machines for others. A friend that had been with him since the beginning told him he had to follow his passion. But it wasn't such a simple task in Germany since one must have a degree that matches the position. Albrecht was a mechanic, not an engineer. After some back and forth with the government, he was allowed to continue as a machine consulting firm that could discreetly build machines.
Since the beginning, Schmale's customers have seen the advanced technology and automation that make it renowned. Every Schmale machine achieves the level of automation that customers did not know, or do not know, today. The German government also recognized this and granted Albrecht an honorary engineering degree based on the machines he built.
The X2000
Schmale saw a need for higher automation in the part production industry. The X2000 was introduced in 1984 and up to that point, wire production was one step at a time. One machine handled either punching, flattening, threading, or bending. Then the part had to be moved to another machine for the next step. Each machine could only handle one step at a time. While others tried to connect existing machinery to eliminate human operators, Schmale developed a new concept that made all operations synchronous, at the same time in the same rhythm.
Schmale saw a need to have a machine that combined all of these steps with a transfer system between the steps. The X2000 was developed to have all of the operation steps connected without human interference. Schmale emphasized on the availability of a huge variety of options such as bending, coining, punching, swaging, threading, collar forming, end forming, and a variety of force one can utilize.

All of Schmale's competitors max out on a bending slide at 6 or 8 tons. Schmale maxes out at 24 tons. For pressing slides, the competitors max out at 40 tons, Schmale maxes out at 700 tons. So, to give all the options to the customers, the technologies and forces available were key then and are now.
The X2000 can be used to have a very efficient mass production of complex parts. What does that mean? Many different materials can be used such as metal wire, strip metal (sheet metal), metal tube, plastic, and magazine different materials. One can use a broad spectrum of these materials from 1/16th to 1-inch wire. From these materials, there is a range of what one can use. A small X2000 with a short six-foot wall with some slides that can just bend wire is a simple thing. But add onto it with additional walls, slides and presses to flatten, press, bend, punch and more. The utilization of the machine is very broad and it opens the same machine up to a whole new spectrum of parts.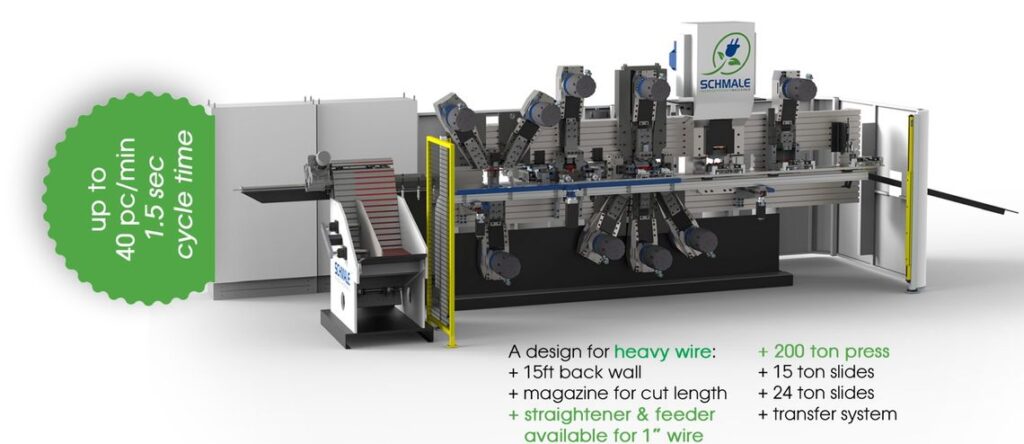 Each station is mobile within the X2000. A station contains a press or slide that bend, flatten, or weld the parts. Presses and slides within the unit can be moved to produce an endless stream of different parts. The X2000 can handle up to fifteen different stations to create the most intricate parts.
With Schmale machines, an additional part can be produced on the same machine. The slides and presses can be rearranged to make all kinds of parts. There is literally no end in sight. For example, a wire part and a strip metal part can be produced on either end and meet in the middle to be welded together.         
Compatibility
The X2000 is compatible with a wide range of items. It can be compatible with a customer's own tools. If a customer wants to use his tool set, then Schmale will make it happen. With some companies, they do not want to show their tool sets to anyone and they don't have to. Schmale will make it compatible without seeing the tool sets, so the company does not need to share their proprietary information. Also, there are many third-party items that the customer may have. A decoiler, for example, can be kept by the customer and integrated into the X2000. The same is true with welding units and other units that can be integrated. It goes so far as Schmale does not buy the unit, the customer does and then the unit is integrated into the machine. Schmale machines are also compatible with Bihler machines, a German company that produces smaller wire bending machines.
Schmale machines are usually compatible with the customer's IT. Customers want to pull data from the Schmale machines, such as speed, so they are tied to the customer's servers and machine monitoring systems. All of the machines have ethernet connections to be plugged into the customers IT infrastructure.  
Schmale machines are compatible to most of the operators' way of thinking. Mechanic machines think in a 360-degree circle and Schmale machines think in that same degree. So, the operator does not need to learn a programming language. It is the same 360-degree cycle that the fifty-year-old mechanic machines run on with the addition of a touchscreen, state of the art drives and safety systems.
Servo-electric drives

The X2000 uses servo-electric drives. Servo electric motors utilize a device called a frequency converter and they control the speed the motor is running within a few RPM and they control the position, amongst others. The frequency converter checks on the values a thousand times a second. They have extreme precision and provide that to the machines. As a result, the servo-electric motor can bend wire and precisely go to the command positions.  
Customer Service
Schmale customer service offers all that is needed and wanted. They offer the simple spare parts and servicing on-site. They offer consultations on production problems such as production order and production needs. They offer designs and provide the drawing to the customer. That is important for a customer that already has a Schmale machine and wants to produce a new part, but doesn't have a design department. Schmale is there to make that design for the customer. That makes it cheap and easy for the customer. They can not only order the design and consultation, but also the actual parts and tools needed to make that design happen. Schmale can also mount the tools and run the machine to ensure it produces the part including a 10,000-part run off at the customer's plant. They can also ensure training and supervision of the machine. A technician will be on site for a week to supervise the machine and train the operators.
In the rare case a machine breaks down, Schmale has a warehouse in Atlanta, GA with shelves upon shelves of spare parts, and a warehouse in Germany with even more parts. A technician will go out to the company to fix the machine and all machines have remote access to help determine the problem.
Schmale Machinery is renowned for their innovation and revolutionary machines. Call 678-365-1015, email daniel.schmale@schmale-machinery.com, or visit our website to schedule an appointment at your company today!