| | | |
| --- | --- | --- |
| Stage I | Stage II | Stage III |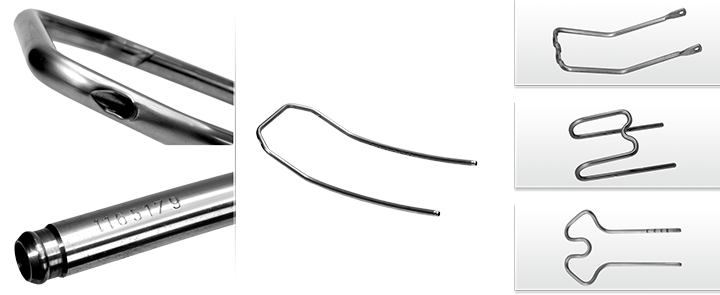 | | | |
| --- | --- | --- |
| Stage IV | Stage V | Stage VI |
Tube diameter 1/2", 5 sec cycle time, 12 pcs./min., finished part falling out including bends, notches, letter stamp and champfers, power requirement approx. 30 kW, part family with several different length, measure station optional with reporting functions
Headrest Frame Manufacturing
In general, the manufacturing process for the frame of a headrest involves various steps such as bending, notching, broaching, stamping and chamfering. However, the specific requirements may vary from one manufacturer to the other.
Some manufacturers may require all the processes while others may require only a small group of them. Moreover, some resulting shapes may be more complex, requiring a more specialized bending process.
If we consider the number of steps and how specialized the requirements can be, the whole manufacturing process seems to be very costly and requiring a long period of time to be completed. Also, the tolerance for the dimensions and angles of the curves are very tight to guarantee the expected results.
How can the headrest frame manufacturing process be simplified?
The best way to simplify the manufacturing process of headrests frames is to use Schmale technologies. With a tool set that can cover up to ten stages in a fully automated solution, our machines help you get your expected results.
The stages covered by our automated solutions for the manufacturing process of headrests include:
Stage I – Feeding: a tube with a diameter of up to ½ inches is moved into the process cycle by automated servoelectric feeders.
Stage II – Detecting and Aligning: The tube is inspected and aligned for further processes.
Stage III – Bending: the tube is bent by an arrange of sliding benders to the desired shape.
Stage IV and V – Broaching and Notching: here the frame is broached and/or notched according to requirements to create indentations that will be used as the adjustment slots for the height of the headrest.
Stage VI – Stamping and Chamfering: the frame is stamped with any coding required and a chamfer is created at the ends of the frame to facilitate installation.
Stage VII – Finished Part: the part is taken to its ready part status.
The whole cycle is automated, and it takes only 3.3 seconds to get the part ready. This leads to a very high efficiency, a short time to market and, therefore, a very high productivity and profitability.
More stages (up to 10) can be added if any special requirement needs to be covered as it was described before. This is done by integrating other automated systems into the same cycle, thus ensuring the capacity is improved without altering the efficiency of the process.
As you can see, Schmale machines allow our customers to achieve a high level of automation and added value. Moreover, our expertise allows us to help hand in hand with our clients to determine the best solution for their specific needs.
If you are looking for an automated headrest solution, or you have any further question, please do not hesitate to contact us and we will gladly help you.