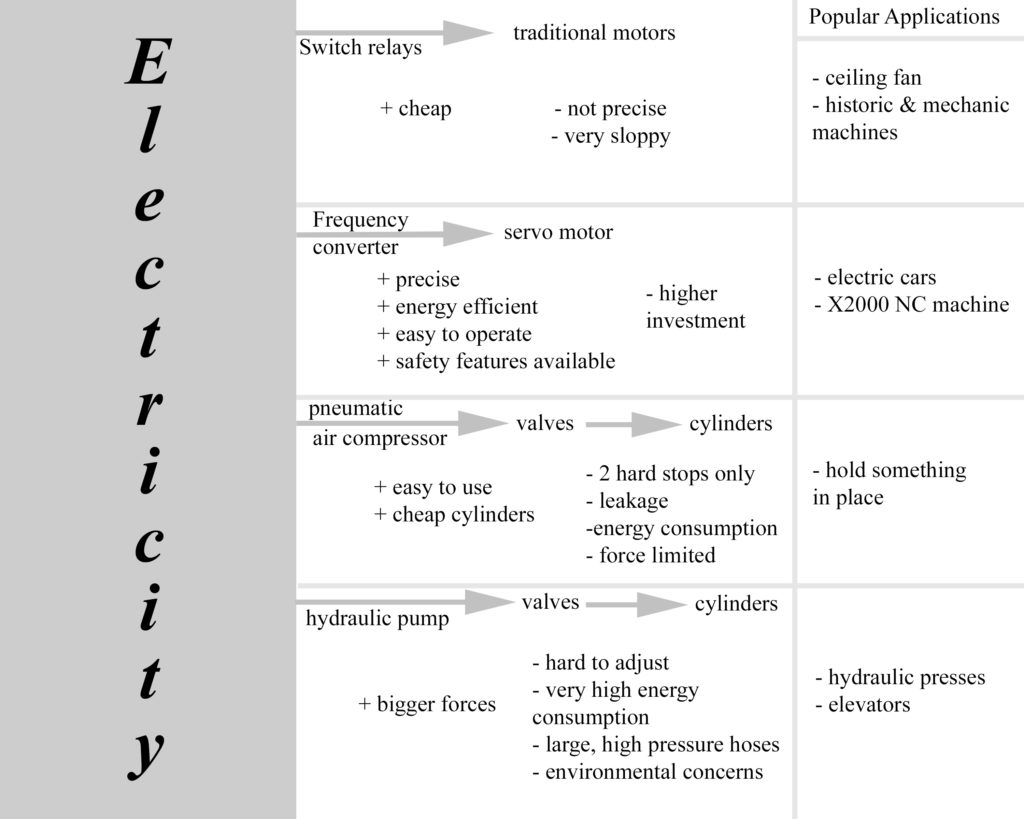 There are four types of drives used in wire bending machines: traditional motors, hydraulic, pneumatic, and servo-electric motors. Each has their advantages and disadvantages, but servo-electric drives have the highest advantages compared to the others. They are revolutionizing the production industry.
Traditional motors only run on one speed. They are not very good at running the speed they are set on. For example, a 3000 RPM motor will actually run at about 2800 RPM. If more torque is needed, the speed decreases. It's a tradeoff between torque and speed. Servo electric motors utilize a device called a frequency converter and they control the speed the motor is running within a few RPM and they control the torque. The frequency converter checks on the values a thousand times a second. They have extreme precision and provide that to the machines. The servo-electric motor, for example, can bend wire and precisely adjust to the command position.
Hydraulic systems need a lot more energy, about ten times, compared to the servo-electric motors. The hydraulic systems are also not as precise and often require extensive work to make adjustments. Servo-electric motors are a simple touch on a touchscreen to make the adjustments. There are no hard stops or valves to adjust.
There are only so many energy sources to run a machine. A machine can be driven by electricity, like the servo-electric motors, traditional motors like in a ceiling fan, hydraulic systems which are very popular in the US, or pneumatic actuators are driven from a large air compressor and air cylinders. Schmale Machinery uses pneumatics to a degree. The advantage to pneumatics is the price level. The disadvantages are they can only be turned on and off, they must be replaced regularly and the force level is small, like to hold a wire in place.
Mechanic machines have the advantage of being very precise once they are adjusted. For example, a clock. Mechanic systems can be very precise and fast if done right, but they are not flexible, can be very loud, and difficult to adjust.
Schmale Machinery started with mechanic machines in 1965 and it was a great fundament for the company. US companies have thousands of mechanic machines since that is what they grew up with! Schmale then went to a hybrid between hydraulic and mechanic only Schmale had. It took the best of both worlds. Schmale moved to servo-electric motors in the early 2000's.
Schmale Machinery uses servo-electric drives in all of their feeders, presses, thread formers, finger benders, decoilers, and buffer magazines. Their decoilers can work with coils of up to 5 tons, and wires with diameters that range up to 1", and they are fabricated with a robust design that allows for a higher reliability.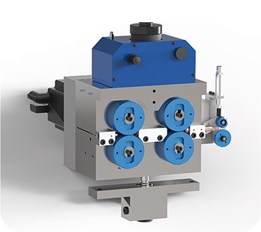 Their servo-electric feed-in rollers are units that help to automatically feed the metal wire into the fabrication cycle. With an easy and simple setting, and (almost always) the possibility of performing adjustments while running, they enable one to have a precise and smooth transition of the material from the coil to the fabrication process. Among other possibilities that the servo-electric feed-in rollers allow can include movement when the system is stationary, several strokes per cycle, feed-in length with no limitations, saving the feed-in length information and profiling of the material.
Schmale's buffer magazines are an important tool to control the timing of the material processing. They allow for a controlled delivery of specific materials such as cut sections. Another important characteristic is that they have very low energy consumption. However, it is important to know that the length of the material cannot be changed as easily.
Schmale can offer a wide variety of slides and presses in several styles, being the hydraulic driven slides and presses as the oldest and the servo-electric driven slides and presses as the newest and most innovative. The main difference between the hydraulic driven and the servo-electric ones is the basic principle of operation. While the hydraulic driven slides and presses use the hydraulic force principle to perform bending, punching or any other forming process needed, the servo-electric units operate by means of an electric motor that is attached to them with all the operation being computer and PLC controlled.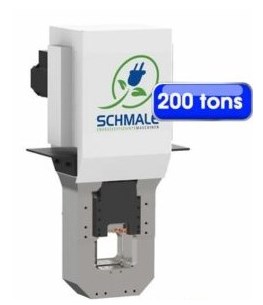 While some slides found in the market can only reach up to 6 tons of operational force, Schmale's slides can go to operational forces that are 4 times higher, with standard models of 2 tons, 6 tons, 10 tons, 15 tons and 24 tons. The servo electric driven presses can cover a wide range of operational forces, with standard models of 40 tons, 80 tons, 120 tons, 160 tons, 200 tons, 250 tons, 300 tons, and 700 tons. This is very helpful for those specific and special applications that can be found in the metal manufacturing industry.
The transfer systems between the slides and presses is another great feature run by servo electric motors and pneumatic actuators. In seamless movements, parts are transferred between stations to have the next step in production completed. There is no need to stop production to transfer the parts to the next stage.
Some applications require threaded sections, which is why a thread former may be essential in different fabrication cycles. These servo-electric units, which are called thread formers, are also fully automated with automatic positioning above the material, automatic change between different thread formers, and a typical thread forming process that can be completed in 1 second including tool changing.

Another common forming process in metal parts manufacturing is bending. Their finger benders are also automated servo-electric units that allow to achieve the desired shape on metal wires and strips. They have the capability of bending wire from 2mm to 25mm (1″) of diameter and sheet metal.
Schmale Machinery is renowned for their innovation and revolutionary machines. Call 678-365-1015, email daniel.schmale@schmale-machinery.com, or visit our website schmale-machinery.com to schedule an appointment at your company today!